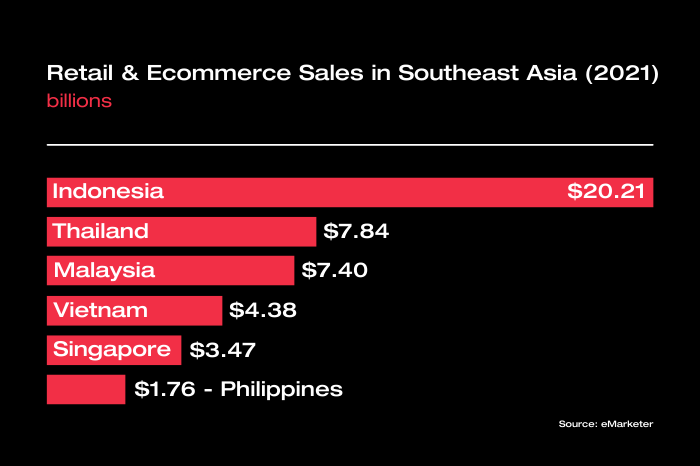 Retail and eCommerce Trend in Indonesia
The global fluctuating sales growth of retail industry depict that the pandemic has played a huge impact on the sector, especially in Indonesia. In order to keep up, businesses have to start implementing a Customer Experience strategy through a customer-centric mindset.
In the past 4 years, eCommerce has rapidly grow, contributing to 20% of the retail market value in 2020 (12x volume increment vs 2016). The shifting of customer behaviour from offline to online requires retail industry to change their business fundamental in two aspects:
Business Model – Fully transformed to digital (eCommerce) and omni-channel strategy

Customer Experience Strategy
Fact: Brands with customer-centric value will gain 2,7x more recommendations and 90% loyal customers.
How Important is Customer Experience? And How Do We Implement Them to Our Business?
The key is to be customer-centric at all times, understand well how our business works, have a clear SOP, and a seamless customer journey.
Customer Experience Pyramid can help guide you throughout the planning & creation process, which consists of 3 key elements:
Useful: Your service should attain different values.

Easy: Easy to use and understand.

Fun: Engage with customers and provide something that makes them happy (with the campaign, process, customer service, etc.)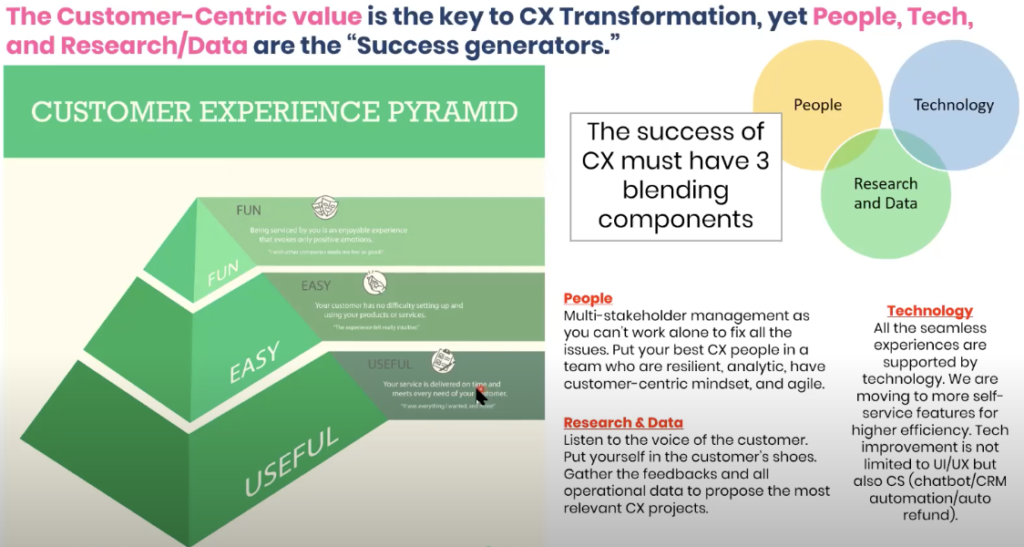 To achieve the whole pyramid hierarchy, you must have 3 blending components:
People: Gather the best team; who are resilient, data-driven, customer-centric, and agile.

Research & Data: Gather feedback & listen to the voice of your customer.

Technology: Technology can help support and make all the experience easier and seamless for your customers.
"Customer Experience is like a car battery, it can run out in a certain period. Before the car breaks down, we need to routinely replace the battery."
Eight key elements of great customer experience.
Logistics

Platform Governance

Business Risk

Traffic & Seller Engagement

Finance

Product & Tech

Customer Experience

Campaign and Commercial
---
After knowing those components, then how do we do cross-functional collaboration? Here's an example of Customer Experience collaboration's flow:
Focus on gathering data from survey, NPS, social media, etc

Listen to their feedback: Create a priority-based action items

From there, create a project management that has a clear timeline, KPI, and roadmap
Last but not least, don't forget to use technology and Customer Relationship Management (CRM) which can support your entire Customer Experience strategy efficiently. To choose what technology and CRM you need is based on your business model & resources, but there are some good channels you can use such as Email, SMS, Push Apps, Whatsapp API, etc. You can find these features available in Twilio, a cloud communications platform to help your company communicate and strengthen customer relationships across your business – from marketing and sales to customer service and operations.
---