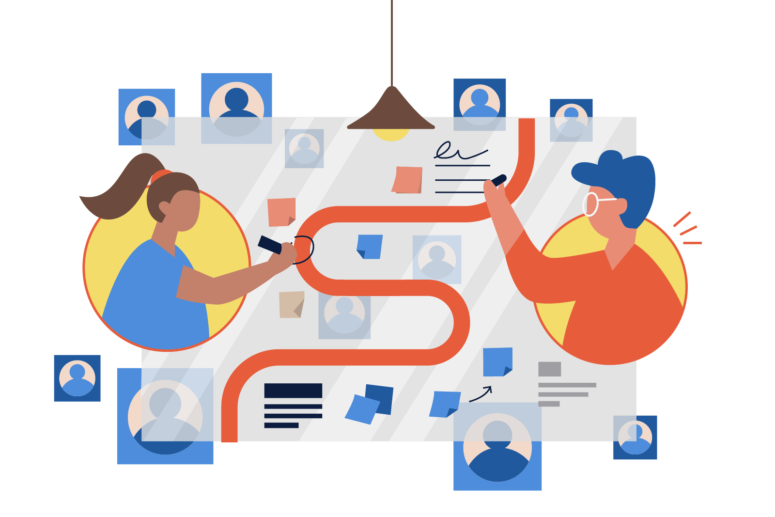 A product is made in order to help people's life in a better way, easier way, and more practical and economical. When creating a product (plan), Product Managers should be able to see problems and chances based on the customer needs and Journey. It also requires you to understand the fundamentals of Product Roadmap and MVP.
What is a Product Roadmap?
A product roadmap is a high-level visual summary that displays your product's vision and direction over time. Product roadmaps tell you why and what is behind what you create. Roadmaps are strategic guidance documents as well as product strategy implementation plans.
and Minimum Viable Product is….
The simplest version of the product that a company intends to bring to market. You only need to understand customer reaction and feedback. It will help the company bring the final product to market. The smallest viable product is the version that collects the most customer demand analysis and provides effective services with the least effort.
To make a successful Product Roadmap you have to know 6 important things;
Content Creation
The initial design of an application, in terms of letters, colors, and stages must be defined as optimally as possible to fit the theme raised. By creating an MVP (Minimum Viable Product) where the app is aimed at the user's needs, the Product Owner will not spend time designing this app for a single purpose. So that it will be easier when the content in this application is only related to things that are a problem and user needs. Moreover, users can really feel the usefulness of the application. Not only beneficial for users, but also the company.
Awareness
It is a way of promoting the application to make them more easily recognized by the market. You can put ads on high-traffic websites and users in Indonesia like Kaskus, Detik.com, Facebook, Instagram, etc. Data must be obtained from reliable sources so that the identification of the advertising media used is not misleading so that the company does not need to spend money on promotions.
Consumption
The content should be easy to use because just being interesting is not enough, the steps should be understandable for everyone. This is very important because if an application is considered complex, there will not be many users, especially if it is a paid one. The application will certainly not sell well in the market. The operation of the application should be as simple as possible to use.
Acquisition & Engagement
This feature is used to increase the number of registered and logged-in users, and to engage the apps they use. The application must be able to be used to interact directly with the creator to make an engagement between the user and the creator. So suggestions, criticisms, and good communication can be created here. It is important to understand that statistics determine whether our app products are marketable or not. It is also very useful to improve the quality and performance of the application whether it is in accordance with the market demand or not.
Retention
This feature allows the user to return to the application that we created. For example, we send weekly emails to consumers about promotions, discounts, or attractive low-priced packages enabling consumers to start using the app again. However, it is important to remember that the emails sent must be well-arranged so that consumers do not experience spam interference from the applications we create with emails or advertisements.
Monetization
Features focused on increasing the revenue of companies that build the apps regardless of functionality. We must cooperate with all departments related to the field of business that can facilitate the application. Remember, do not make the wrong collaboration, it can reduce the branding of the company/application.
So if you have a great MVP business idea, no one can stop you from creating a great MVP. Just write your ideas on paper, discuss and contact the application development company to understand your MVP development process. It doesn't have to be perfect, it just has to be efficient.
——-
Apiary Academy also has one module in Fundamental – Introductory Course that provides learning topics about Developing a Successful Product. In that course, you will learn not only about Product Roadmap and MVP but also problem definition and validation, methods of frameworks, and analyzing and utilizing user feedback.
If you're interested to be Product Manager and learn more about this, check our Product Management Training program at our website https://academy.apiary.id/
Writer: Pramudono Adhi Kumoro
Editor: Apiary Coworking Space